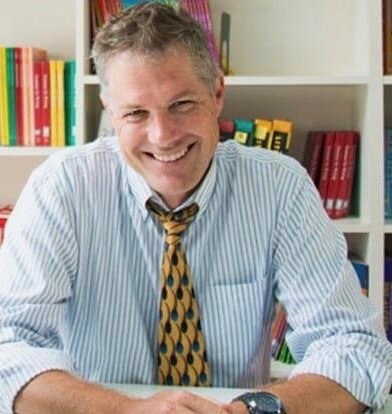 Obituary of David Mindorff
Dr. David Mindorff unexpectedly passed away on October 19th, 2023. Son of the late Gerard and Elizabeth Mindorff, he is survived by his adoring wife Michèle, and his sons Nicholas, Michael, Benjamin and Jonathan. He loved being part of a large family and being a dad, brother and uncle. He had 10 siblings, Mark (Cindy), Mary (Ron), Cathy (Jack), Tim, Margaret (Walter), Claude (Deborah), Claire (Ron), John (Fatima), Philip (Anne) and Chris. He will also be sorely missed by his Bahamian family, Patrice and Caleb Johnson, and the wider community at Lyford Cay International School, The Bahamas. The tributes coming in from across continents make clear the impact David had, wherever he lived and worked; Budapest, Hungary; Aberdeen, Scotland; Toronto and Hamilton, Canada; Bucharest, Romania; Nassau, The Bahamas; Chengdu, China. David's passion for international education, beginning with his work with the International Baccalaureate, impacted and inspired all those around him. David had just completed his 8th Biology book and in May had achieved his doctorate. Music was a major part of David's identity: Hayden, Beethoven, Cowboy Junkies, System of a Down, Trews - he listened to it all, especially with his sons. His gentle, humble and thoughtfully rational approach to everything he did made every space he was in more peaceful. Inspiring and supporting generations of students and teachers, David explored the wild wonder of the world with all of us. His fierce intellect, kindness and dedication to learning will continue to live on in the many lives he has touched.
Rest in peace and so much love, David.
Visitation will be held at Benner Funeral Services, Monday, October 30, 2023 from 4 - 7 PM. A Funeral Mass will be celebrated at St. Michael Roman Catholic Church, Fort Erie, on Tuesday, October 31, 2023 at 11:00 AM. For those unable to attend, the service will be Live Streamed on the St. Michael Catholic Church's Facebook Page, https://www.facebook.com/StMichaelRomanCatholicFortErie . Interment to follow at St. Michael Cemetery, Ridgeway ON.
The family would appreciate donations in lieu of flowers to be made to Strong Fort Erie Neighbourhoods, a community based volunteer organization, located in the Town of Fort Erie and focused on poverty relief. Donations to Strong Fort Erie Neighbourhoods (SFEN) can be made by E-transfer using the email address, strongforterieneighbourhoods@gmail.com or by cheque sent to the mailing address below.
Strong Fort Erie Neighbourhoods
c/o Theresa Murphy
589 Lakeside Rd,
Fort Erie, Ontario
L2A 4Y3