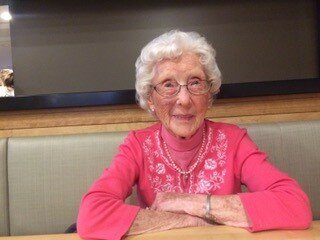 Obituary of Dorothy Rehaume
REHAUME (Stewart): Dorothy Winifred
It is with great sadness the family of Dorothy (Heckman, Stewart) Rehaume announce her going home to the LORD on May 23, Victoria Day which will always be a "Day of Victory" for her as she had long awaited to be with Jesus and her loved ones gone on before her.
Age 105, Dorothy was Born on August 26, 1916 in Bridgeburg, (Fort Erie now), Ontario. Daughter of the late William and Clara Heckman. Raised in Mitchell, Ontario on a farm with her parents, they moved to Fort Erie when she was 4. She had four brothers, Clarence, Harold and Harry (twins) and Bill as well as two sisters, Ila and Georgina.
Dearly beloved wife of her first husband the late Vincent Stewart and second husband, the late Gordon Nelson Rehaume. She is also predeceased by her infant daughter Diane Anita and her grandson, Greg Stewart as well as her dear son Ronald Vincent Stewart (2019) and all her brothers and sisters.
Survived by her four stepdaughters (Nee. Rehaume) Marilyn Latour (Brian), Lorraine Parker (Gary), Celine Hill (Cal), Christine Sullivan (Pat) and daughter in law, Elaine (Climenhage) Stewart as well as 16 grandchildren, 27 great grandchildren and 7 great great grandchildren as well as numerous nieces and nephews. Dorothy was employed with Canada Customs, retiring in 1976.
Benner Funeral Services, 1105 Benner Ave., Fort Erie entrusted with arrangements. The family will receive friends on Saturday May 28th from 1 pm until the time of funeral services in the chapel at 2 o'clock followedby a reception at the funeral home. Interment to follow in Ridgeway Memorial Cemetery. If so desired, donations to a charity of your choice in memory of Dorothy would be appreciated