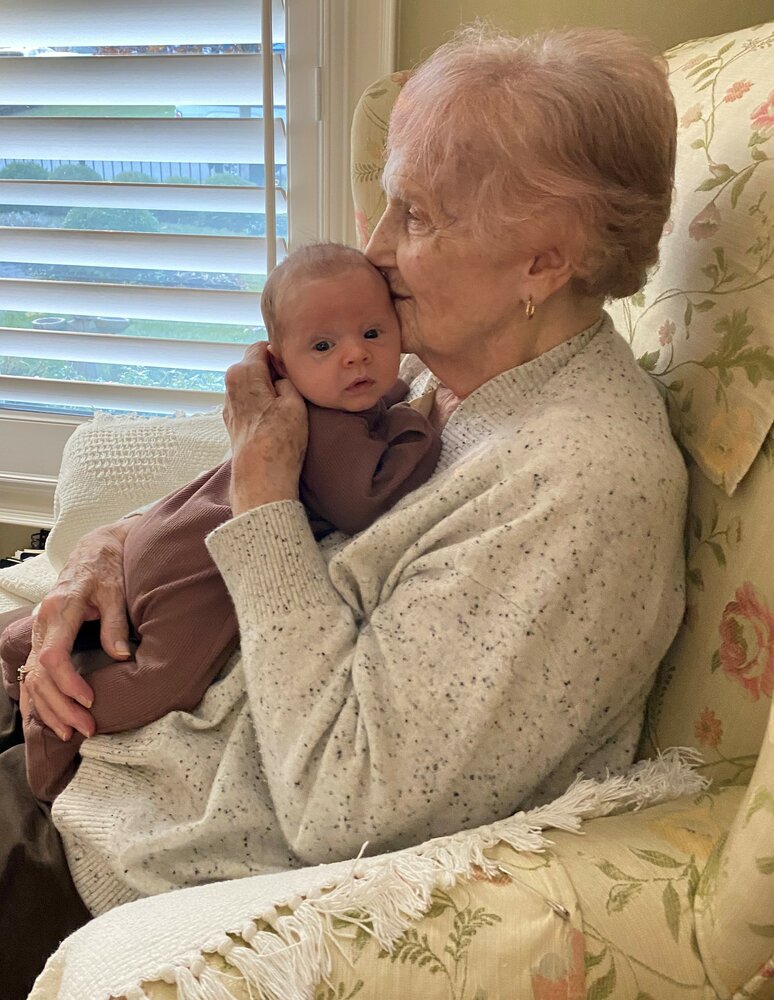 Obituary of Elizabeth Anne Mindorff
Obituary for Elizabeth Mindorff
1928-2022
A LEGACY OF LOVE FOR LIFE AND CHILDREN
After a life well-lived, from her family's embrace, our mother has joined the love of her life, Gerard (2018) and brought to close, chapters within a marvelous story.
Born in 1928 and raised in Guelph, Ontario, a product of Loretto Academy. She was daughter of Florence Bedford McCarron & John McCarron.
She was sister to Helen, Phyllis, Robert, Jack, Mary, Grace and Patrick.
She was the proud mother of Mark (Cindy), Mary (Ron), Cathy (Jack), Timothy, Margaret (Walter), Claude (Deborah), Claire (Ron), John (Fatima), Philip (Anne), David (Michele) and Christopher (Laurie)
Along with their eleven children, Elizabeth and Gerard were proud grandparents of 37 grandchildren and 48 great grandchildren. Elizabeth's grandchildren and great grandchildren brought her so much joy and laughter with their antics and stories.
Elizabeth was a loved aunt to her nieces and nephews sharing their lives. The tea parties with her nieces were memorable.
She leaves behind her beloved kitty, Socks who spent many hours enjoying Jeopardy and HGTV with her.
Gerard fell in love with a beautiful red headed nurse from Guelph. They married in 1950 and went on to build a life and family together. That family has been an inspiration to many.
Elizabeth and Gerard built beautiful gardens and fishponds in each and every house they lived and shared them with charitable organizations through garden tours.
Elizabeth was a gifted artist and her watercolours showed her love of gardening and flowers. The large kitchen table that Gerard made, was the hub of family life and sometimes resembled a busy bee hive, especially at canning time. Her mum once said that Elizabeth canned everything but the front grass. Her jams and chili sauce were always a welcome gift.
Gerard and Elizabeth were committed to their community and loved their life in it. They were co-founders of Casa El Norte, a home for refugees coming to Canada. They spent many hours at the border welcoming newcomers to Canada, helping them adjust to a new life.
Elizabeth served in many organizations. A president of Fort Erie Red Cross, she received the Red Cross Service Medal for her years of service. Elizabeth was also president of Fort Erie Horticultural Society and president of Ancaster Garden Club. An active and life member of Douglas Memorial Hospital Auxiliary for over 50 years. Elizabeth was also a founding member of Meals on Wheels Fort Erie.
Gerard and Elizabeth were devoted and long-time members of St Michael's Church. Elizabeth was a member of St. Michael's Catholic Women's league for 70 years, beginning at St. Joseph's Church in Chatham in 1950, and with St. Michael's Fort Erie since 1965. She was the recipient of the Maple Leaf pin for her years of service.
Arrangements are entrusted to Benner Funeral Services,1105 Benner Ave in Fort Erie. The family will receive their friends at the funeral home on Thursday January 13th from 6pm-8pm and Friday January 14th from 1pm-4pm. The funeral Mass will be celebrated at St. Michael's Roman Catholic church in Fort Erie on Saturday January 15th at 11am. Rite of Committal will follow at St. Michael's Cemetery.
Covid 19 protocols now require individuals wishing to attend the visitation or funeral service to reserve a spot by calling 905 871-0444 from 9 am to 4 pm or through email at staff@bennersfuneralservices.ca Please remember mandatory masks, social distancing and capacity limits are in place.
PLEASE NOTE:
The service will be available by livestream and can be found on St. Michaels website at www.stmichaelfe.com or on Facebook St. Michael's Roman Catholic Church Fort Erie
Donations to St Vincent de Paul, St Michael's and Douglas Memorial Hospital Auxiliary. Online condolences may be made at www.bennerfuneralservices.ca