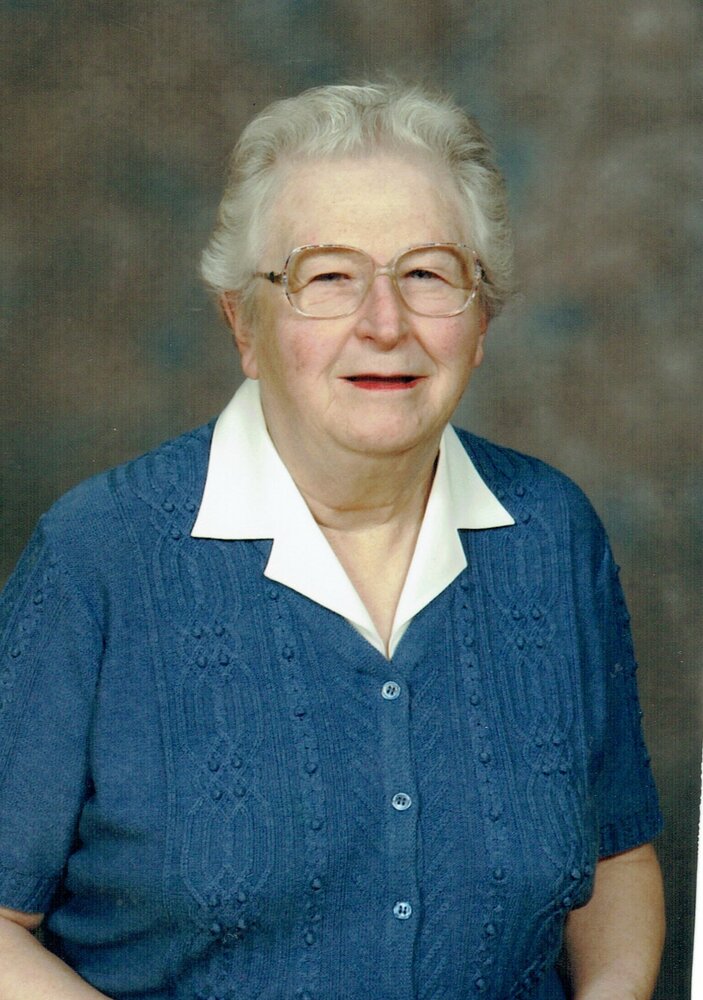 Obituary of Audrey Wanda Ogilvie
"A service celebrating Audrey's life will be held on Saturday, December 9 at 1 pm at St. John's Stevensville United Church, with refreshments to follow."
On Saturday November 18, 2023, embraced by her daughters Nancy (singing in her ear) and Debi (holding her hand) Audrey Wanda Ogilvie, aged 92, peacefully slipped out of the "living" room in her home to joyfully reunite with many loving family members and friends already awaiting her after death, in the "next" room. She felt like it was her time to die, since after all, her grandma Dickson and her mother Lila both died in their 92nd years. A celebration of her life will be held at St. John's Stevensville United Church at 1 pm on Saturday, December 9, 2023.
Audrey was predeceased by her beloved husband Lloyd and by her siblings Wanda Carroll, Sharon Bews, and Allan Reid. Audrey is survived by her little sister Linda (Doug) Reid and her daughters Nancy Valliquette and Debi (Tony) Street. Audrey's legacy was her beloved family: she had three favorite granddaughters, Melissa (Daniel) Heerdt, Amanda (Kevin) Heximer, and Vanessa (Nick) Fermani; and three favorite grandsons, Matthew (Michelle) Coley, Ben (Suzann) Coley and Charlie (Jessica) Blair. She liked keeping the teams even, girls and boys. Audrey also had fifteen great grandchildren who she doted on (and who called her everything from Gram O to Oggie), and four great-great-grandchildren—five living generations during her lifetime. Her loving circle included many nieces, nephews, grandnieces and grandnephews, wonderful relatives-in-law, and countless dear friends.
Audrey was an ordinarily extraordinary woman. She was a homemaker for her entire adult life, and what a welcoming home it was! Among her favorite hobbies were sitting in cold arenas while accompanying Lloydie to figure skating events during his lifetime, remembering every single family member for birthdays and special occasions, cooking and baking for anyone who popped in and…shopping. Her annual grandma bags, the birthday chair right inside the front door, and the "snail mail" greeting cards people received are legendary within the family.
Audrey was a kind, relentlessly friendly, generous and practical woman who could always find the silver lining: the value, the lovable characteristics, and the admirable talents of any person she encountered, whether old friend, prickly family member, or new acquaintance. She admonished friends and family who visited recently: "Don't be sad. I've had a WONDERFUL life." As a child of the Great Depression and World War II rationing, Audrey valued the practical over the symbolic. So, to honour both her memory and her practicality, please do not send flowers or gifts. Instead, wonder "what would Audrey do?" and then try do it. She would be kinder and more patient, she would notice what other people need and try to supply it generously, and she would value what she already had by enjoying every moment of life and the company of others. Causes that Audrey cared about deeply and supported always involved helping others, including through St. John's Stevensville United Church, The Embrace Center, refugee resettlement, warm clothing initiatives, and food pantries.
Debi, Nancy and their families are grateful to everyone who helped ease their mother's last months. Bonnie, Dr. Kim, and Dr. Scher were joined by a team of wonderful caregivers from the March of Dimes, Stay at Home Nursing, and Paramed palliative care. Reverends Cheryl and Bill from St. John's Stevensville United Church were encouraging and comforting. The many kind gestures and assistance from family and friends during Audrey's last weeks helped her daughters honour Audrey's fervent wish to die peacefully at home, surrounded by love. Thanks to everyone for helping them make Audrey's last wish come true.
Arrangements entrusted to Benner Funeral Services, Fort Erie.