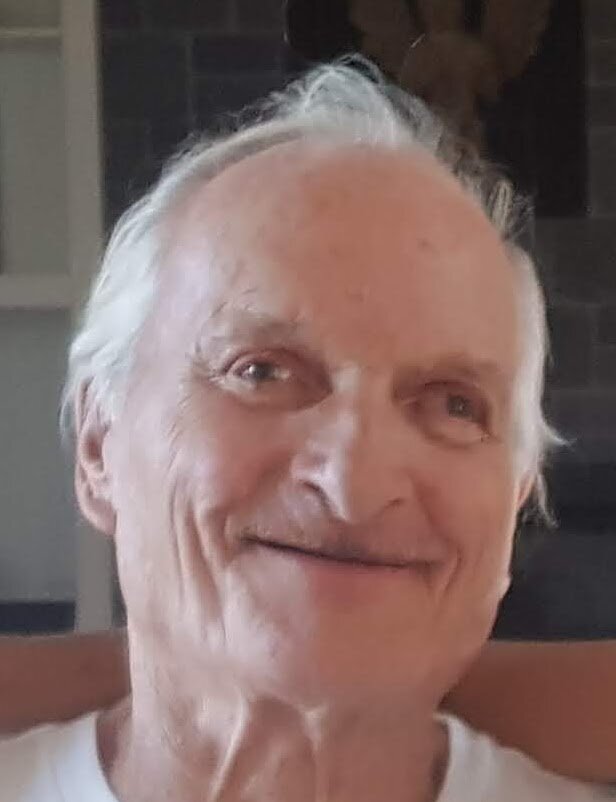 Obituary of Ronald Alfred Hilton
Ron Hilton
It is with a broken heart that I write this.
Ron Hilton, Husband to Elisabeth, Father to Tony and Tina, died August 20, 2023 in St Catharines General Hospital.
He leaves behind Family in England who he very much enjoyed spending time with.

Ron was gifted with a sparkle in his eye, the British stiff upper lip and his charming humour.
I recall our early days driving on Church St. in St Catharines. I noticed Ron looking at a girl. I said Ronnie, "why are you looking at that girl? "
Without a second thought he said " I'm looking at the pockets on her jeans." I cracked up. Of course it was the perfect answer. We were obsessed with the denim business. OPUS was our livelihood but also the best job in the world. Blessed with generations of wonderful clients and staff. Never boring, ever changing, our social life, we were very happy working together.
So yes he was checking out the back pockets. Didn't hurt that a pretty girl was wearing them. I didn't mind. We laughed a lot.

He was kind, He was not judgemental. He treated people equally. He loved even though not obviously verbal. He carried pain as everyone does.
Debated writing about pain. I opted for truth, reality, because Ron was generous. He wanted to help others traveling a similar path. He wanted others to know better days were possible.
He lost his children. He loved his children deeply. It very nearly broke him. Took him on a self-destructive path.
It took years of heartache before he was able to manage the pain of their loss. But just like Ron he finally made the decision and stopped drinking on his own. Just as he did with smoking. He always found his way when he was ready. He thought others could too. He shared his story. We need to share our stories to help others know they are not alone.

When Ron passed, I was just recovering from a complex 5 procedure life saving surgery.
Thought I'd return home to find him without the infection.
He would be in Niagara Residences where Mom is going for walks, without pain, and his beautiful sense of humour come alive again.
Even with dementia we danced, hugged, and kissed. We talked. He knew me. His Bruce Willis dementia was not yet full blown.
There was still clarity. The infection took hold, went too far, and he passed.
Rationally I know he is in a better place, less pain-free.
Hearing Ron died set my recovery back physically responding even though trying to control it.
I could not find strength. It has taken me this long to get my head around writing an obituary. Falling apart with every attempt.

Before I come to an end, I include this message that expresses Ronnie so well. He would have enjoyed it.
" I shared some 50 years with you two and have so many wonderful memories. I am glad you had dances and kisses to the end. I know him as a whirlwind of energy, whether in the store or on the farm, where when I helped you, I couldn't keep up with him. I remember the early years when he was a conservative and our political discussions!
He was the Mick Jagger I knew in my life.
Energy, creative-expression and non-stop activity.
One for the ages for those who knew him."
That was Ron. The man I loved. He was energy itself.

Finally my soul finds comfort in faith, in the miracles of God and the universe.
Ron did not know where I was but he did know I was having surgery. He knew the neighbours knew where I was.
In the early hours of the morning every light came on in their house. This was the only Family that knew where I was. He could not reach me, but he reached them. Ron knew this. 10 minutes later the neighbours got the call to say Ron passed. A few minutes later I got the call. I know Ron came to say goodbye to me. His energy found me. Even with dementia, his last words always, ( my cancer brought him back to clarity) was to say "all I want is for you to get better." I felt his energy. I understood his gift.

Another seemingly far-fetched incident I recall Ron laying down on the sofa in the afternoon. He didn't feel right. Ron never ever did this.
Ron was an identical twin to his brother Roy. The next day we got the call from England Roy had a heart attack.
To some this may not be meaningful. I have faith. I know Ron came to say goodbye. I know there are miracles.

Today I ordered a beautiful red brass urn. This journey is made up of baby steps everyday.
Finding the perfect urn that reflects Rons spirit comforts me.
Now I know he is coming home.

A lifetime together with some challenges. Life, relationships, are full of challenges. We worked our way through. 54 years later he is still the love of my life. Ron was a young 86-year-old. The picture still with the sparkle in his eye, was taken at 85.
Not only do I remember what he was wearing when I met him, but I remember the times he would make me laugh at the oddest times.
He stole my heart.
Even to the end in the hospital when the nurse said he was unresponsive my sister said to him "Ron you need to eat...remember we are team Lizzy". He talked and he ate. He found clarity and the ability to overcome.
He wanted me to be better. He wanted to say goodbye.
If I had to do it over, I would take the journey again with him.