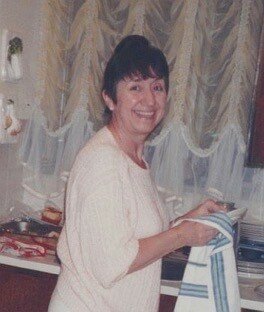 Obituary of Barbara Dixon
Mum
Barbara Dixon 1936- 2023
It is with much sadness that we announce the passing of our Dear Mother, Barbara Dixon in the early hours of May 7th 2023.
She will be greatly missed by her children Karen and (Gerry) Christie, and Carole and (Mike) Kieffer, her sister Rita, and grandchildren Jennifer, Erik, Brandon and Corey.
She is predeceased by her daughter Rita Chartrand, son Michael Zdrojewski, brothers Bernie and Len, and parents Beatrice and Ernest Dixon.
She will be fondly remembered by her neices Erin Borris and Beth Vokaty-Dixon, and cousins Della, Leigh, David and Sue from England, as well as the Christie family, particularly Debbie with whom she was a co-worker for many years.
Barbara was a member of the Douglas Memorial Hospital staff team from 1980 - 2001, and then continued with personal Caregiver services until 2017. She loved her work and was enthusiastic in her caring for others.
Barbara was a passionately inspired cook, and her kitchen was her sactuary for the creation of her culinary delights and home baked bread.
We give special thanks to the paramedic crew and staff of the Niagara Falls General Hospital, as well as Jimmy and Lisa Gray of Albany Place, and Benner Funeral Services.
There will be private family memorial services in honour of Barbara's life
For anyone wishs to leave a donation in memory of Barbara, Last Chance Horse and Pony Rescue in Crystal Beach can be accessed via a Gofundme page, which would be dearly appreciated.