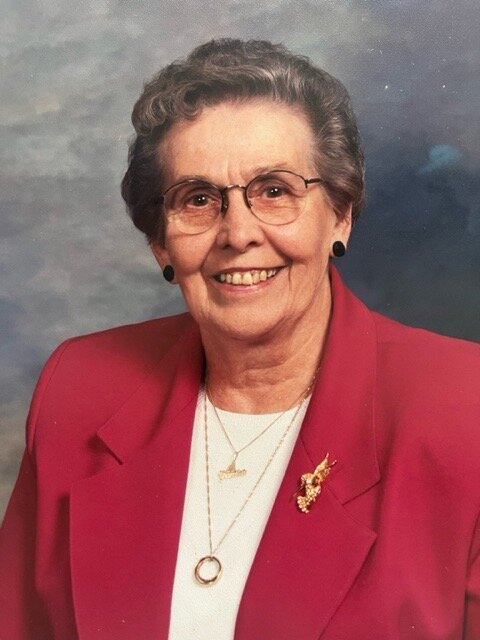 Obituary of June Graham
Laurena "June" Graham (Schabel)
1925 - 2023
June reunited with the love of her life Edward on April 30, 2023, in her 98th year. She is survived by her three sons whom she loved dearly, Neil (Patti), James (Dan), and Kevin (Kim); five grandchildren who adored their Grandma, Timothy (Jerome), Jeffrey (Bruce), Andrew (Lisa), Sara, and Tyler (Jaymi); and her daughters-in-law and best friends Janice and Ruthann. She also leaves behind nine great-grandchildren who will grow-up to learn how special their great-grandma was.
June as well leaves behind her sister, Ruth Webb, her brother-in-law Robert (Ollie) Graham and many nieces and nephews. In addition to her husband Ed, June was predeceased by her parents Gottlieb and Reta Schabel, her sisters Norma Mayberry and Betty Everett, and her much loved daughter-in-law Janice.
For over 70 years (most of that time with Ed), June lived on West Main Street in Stevensville in a home with open doors for anyone wanting to come for a short visit or a long-stay; a quick coffee or a full meal; or for one of the many family celebrations.Everyone was welcome.
June was a kind, caring, and gentle lady. June loved a good laugh and a good hug. She loved phone calls (which became video calls), to hear everyone's latest news and successes; shopping; a good card game (as long as the other players knew how to play the game); and her crossword puzzles. Most of all, June loved her family, and they loved her just as much. She will be greatly missed and many hearts will be a little emptier but her memory will live on forever.
She is Gone
(David Harkin, 1981)
You can shed tears that she is gone
Or you can smile because she has lived.
You can close your eyes and pray that she will come back
Or you can open your eyes and see all that she has left.
Your heart can be empty because you can't see her
Or you can be full of the love that you shared.
You can turn your back on tomorrow and live yesterday
Or you can be happy for tomorrow because of yesterday.
You can remember her and only that she is gone
Or you can cherish her memory and let it live on.
You can cry and close your mind, be empty and turn your back
Or you can do what she would want: smile, open your eyes, loveand go on.
Special thanks to Dr. Sher and to Sarah McPhee and the caring and compassionate team at Garrison Place in Fort Erie. June's final years at Garrison Place were happy and comfortable years thanks to the nurses, staff and residents at Garrison Place.
Arrangements have been entrusted with Benner Funeral Services. A private burial and celebration of June's life will take place at later date.
If desired, donations in June's memory can be made to the charity of your choice.