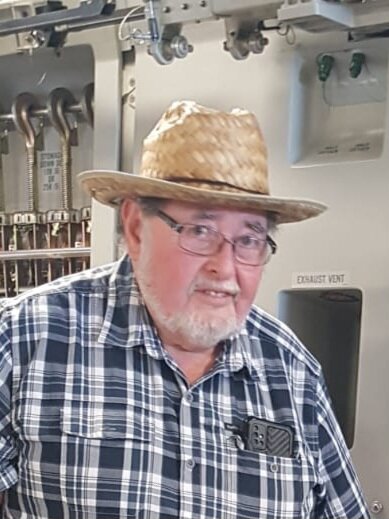 Share Your Memory of
Doug


Obituary of Doug Ashmore
It is with heavy hearts that we announce the passing of Doug Ashmore in Fort Erie on Friday April 14th, 2023, in his 73rd year.
Loving husband to Jill Ashmore, devoted father to Jane (Justin) Watson and predeceased by daughter Laura (November 20th, 2015). Joyous Papa to his grandchildren, Ryan, Shelby, Morgan, Hailey, Charlotte and Rachel. Son to his predeceased parents, Robert and Isobel Ashmore. Loving brother to his predeceased siblings Barbara (Bruce) Elliot and Tom (Michele) Ashmore and loving brother to Helen (Gary) Gibson and Bob (Lorna) Ashmore. Favorite Uncle to Susan (Allan), Kevin (Ann), Paul (deceased), Brenda, Robyn (Vince), Glen (Donna), Brian (Tina), Robert, Matthew, Grant (Cala). Greatly missed by Luke (Janesa), Tamara (Martin), Trista (Jason), Stuart (Vie) and so many others that he was 'Uncle Doug' to.
He will be dearly missed by his extended family, and friends from Brampton and Fort Erie.
Doug was born May 7th , 1949 in Brampton, Ontario and he was the youngest son of five children. He would tell you how his oldest brother Tom taught him how to ride his bike and skate. Doug was a quiet child that excelled in electronics, math, science and all things mechanical.
Doug started his 50 + year career with Dixie Cup/Georgia Pacific in Brampton at 19. Where his skills and knowledge were put to good use as it was often said he was 'capable of fixing anything!'
He will be greatly missed by his work family, friends, colleagues, buddies and contractors.
Doug and Jill met in 1972 through Doug's niece Suzy. Back when he had long hair, wore purple velvet button-fly bellbottoms. He won her over, not with his fashion sense, but with his loyalty and steadfastness. On August 9th, 1975 he married the love of his life, Jill. They started a family and welcomed their first child, Laura in 1979 and then Jane in 1980. Doug was a proud father and husband who would do anything for his family. He loved seeing his girls run down the sidewalk as he arrived home from work shouting Daddy! Daddy! His greatest joy was to spend time with his family and he was overjoyed to become a Papa when Ryan was born. Doug loved spending time with all his grandchildren. Whether sharing his knowledge by teaching how to 'fix' things or building Lego towers to knock over, he was happiest surrounded by his family.
Doug had many interests including chainsaws, hunting, fishing, cameras, planes and any small engine that was in need of fixing. He would gladly share stories of his escapades of hunting trips to Northern Ontario or show off photos of his fishing successes. Many people have seen the mounted deer head that Doug had hunted with his '87 Chevy.
When Jill joined Mary Kay, Doug supported her in any way he could. He gladly organized all the music and sound system needs for big events. He packed and unpacked boxes from the car, and he gladly shared how proud he was of Jill's success. He will be dearly missed by all of his Mary Kay family.
His soul not only represents a lifetime of hard work, faith, integrity and dedication to his family but the achievement of a dream to build a legacy for his children and grandchildren. Doug has shown us all how to love generously, laugh, teach, share, encourage, support, and be selfless. His love and passion for his family will never be forgotten.
Doug's values around hard work, family, and loyalty are instilled in all he met. His belief that all things are possible with faith and persistence is the legacy he leaves behind.
"Well done, good and faithful servant! You have been faithful with a few things; I will put you in charge of many things. Come and share your Master's happiness!" Matthew 25:23.
Visitation will be held on Sunday, April 23, 2023 from 1-4 pm and again on Monday, April 24, 2023 from 11-1 pm at Benner Funeral Services, 1105 Benner Ave., Fort Erie. A Funeral Service will be held on Monday, April 24, 2023 at 1pm in the Benner Funeral Services Chapel. Cremation to follow. For those unable to attend the Funeral Service, a livestream will be available 10 min prior to service time on the Benner Funeral Services Facebook page, https://www.facebook.com/bennerfuneralservices
The family asks that anyone wishing to make a donation in his memory please direct it to the Canadian War Plane Heritage Museum or the Mary Kay Ash Charitable Foundation or to the charity of your choice. Doug loved helping everyone.
Visitation
1:00 pm - 4:00 pm
Sunday, April 23, 2023
Benner Funeral Services
1105 Benner Ave
Fort Erie, Ontario, Canada
905-871-0444
Visitation
11:00 am - 1:00 pm
Monday, April 24, 2023
Benner Funeral Services
1105 Benner Ave
Fort Erie, Ontario, Canada
905-871-0444
Chapel Service
1:00 pm - 2:00 pm
Monday, April 24, 2023
Benner Funeral Services
1105 Benner Ave
Fort Erie, Ontario, Canada
905-871-0444