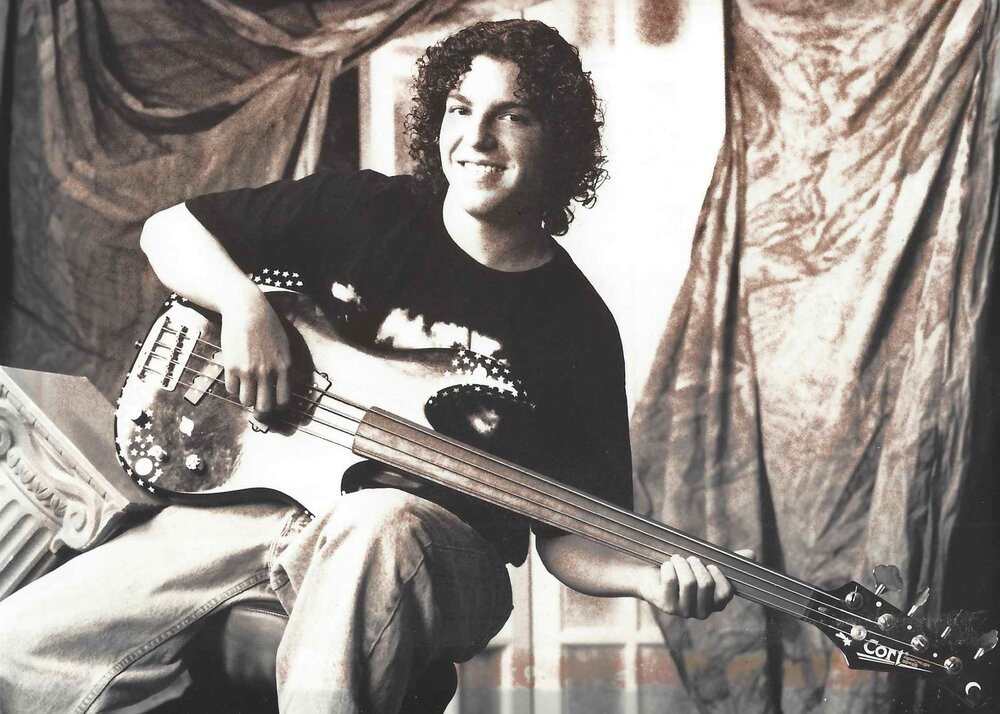 Obituary of Christopher Robert Henry
Christopher Robert Henry, "Fubalub", "Topher", "Christoph"… went by many names, but there was only one Chris Henry – passed away suddenly in his sleep on December 3, 2022.
Chris will be forever loved and missed by his wife and partner in life Carrie McIntosh, his parents Dr. Patricia Teal and Dr. David Henry, his sister Kathleen Henry, his brother Dr. Patrick Henry (Christina Pinelli) and his nephews Finn and Hudson Henry. Chris is also dearly loved by Carrie's family, especially for always taking care of her: Daddy Mac - John McIntosh (Leanne Buckner), Aussie sister-in-law Shannon Bebendorf (Leon) and his nephew Austin and niece Shaylah, and his "bro" Andrew McIntosh (Nancy) and his nephew Mateo. Chris leaves behind so many dear extended family and friends – Uncle John Teal (Paula), Aunt Florence Henry (the late Bob), cousins John Teal (Joanna) and Mark Teal (Lindsay) their families, and Bobbie and David Henry and their families, his god-parents Anne-Marie (the late Pat) Hudak, his best friend Michael Bailey and so many more to even mention.
Here's Chris' story…
Chris was born October 26, 1980 into the loving family of his mother Patricia Teal and dad David Henry. He was brought home from the hospital in the middle of the night to his waiting 4-year old brother Patrick and 6-year-old sister Kathy. He would soon be the light of everyone's lives and the next years would be spent snuggling him, teaching him to walk and play. He had bright blond curly hair and since about the age of 4 would talk your ear off and sit happily with a group of adults socializing, while the other kids ran around playing. At soccer, he would sit in the field and pick dandelions. He was the most lovable, huggable, little boy in the world.
At school he held a small group of close friends and his personal relationships were of a small circle, but very meaningful, which is all he needed. Once at University, he learned that he did NOT like studying… but that he did love cooking. He switched into Canada's only red-seal Chef school and found his work-passion for cooking. He studied hard and apprenticed for several years, working extremely long hours, 7-days a week, eventually earning his red-seal as a Chef, which is one of the highest achievements in this field. He opened his own restaurant! The best food Fort Erie had ever seen. Finding eventually that while he loved food, he disliked the business-aspect of running a restaurant, which he ultimately closed, and chose to focus his culinary passion on the person he eventually found to love the most, his bride-to-be, Carrie.
Chris and Carrie were married at a winery in the middle of a rainstorm – and halfway through the wedding the clouds opened up and he and Carrie were arm-in-arm watching the most beautiful double rainbow and sunset across the vineyard that many of us had ever seen. They loved each other and in hard times clung to each other, and looked after their dogs and cats, and each other, in a new house they had built that Christopher was especially proud of.
Christopher starting working with his mother as an ophthalmology technician, and not surprisingly was loved by many patients for his demeanor – he was just so great to talk to! Many patients would tell his mother "wow what a great son you have got there" after meeting him. Just as in his childhood, when people got to meet Chris, they just loved to keep talking with him.
The last few years of his life, Chris battled an illness, called pancreatitis. He had many trips to the hospital – which he hated - but always recovered. He would still come to the family get togethers that he could make it to and would talk with everyone the whole time…. Quietly hiding what he was feeling inside. He was sent to many specialists, but none could figure out why his case was worse than most others. Many of us, even his close family, did not know just how hard he fought, and for how long, to stay healthy, to stay upright, to come to work, to visit his family and stay in touch with people. In fact many of the people in his life that knew him, that loved him, did not even know he was sick. He never, ever complained, or reached out for sympathy. And on the eve of December 2, 2022, he fell ill again, and this time, he had had enough. His wife kissed him goodnight… and he passed away in his sleep… to the grief and despair to all of us who loved him so much… but hopefully finding peace and ending his suffering.. Our wonderful boy, who was loved far more and by so many more than he probably ever knew… we hope you are at peace now, and feel great, and are talking happily with all our other friends up there in heaven, in fields of dandelions. We miss you. We love you…and will all hug you again soon one day.
Benner Funeral Services entrusted with arrangements. A visitation will commence on Friday December 9th, 2022 from 6:00 – 8:00 PM. A service to take place in the chapel at 11: 00 AM on Saturday December 10th, 2022. Thank you to Dr. Scher, nurses and all staff at Douglas Memorial Hospital and all of the other health care professionals who helped Chris throughout his illness. Donations in memory may be made to Niagara Dog Rescue, Douglas Memorial Palliative Care or the Fort Erie SPCA.
~~~~~
It is with great sadness I announce the passing of my brother, Christopher Robert Henry, 42 years old, in Fort Erie Ontario. Chris died suddenly, at home, after a long battle with chronic pancreatic disease. Chris you are so many things. When I think of you, I think of someone most of all talented and funny; someone humble, patient and kind. You are and have always been a beautiful and skilled musician. You are a perfectionistic chef who created mouth watering dishes for friends and family. And your empathy … well that is off the charts. You are my baby brother and a beautiful soul, and your kindness touched so many people. With great sadness I watched you struggle with pancreatitis in the last decade. It is so unfair that someone as sweet and generous and with such a big heart as you, should have this happen during your young life. It made it increasingly hard for you to live your life to the fullest— to work, to play, to even enjoy food and drink and friends and family… things no one should be deprived of. EVER. Wherever you are I know you are not in pain. That is the only part of this that seems fair. We, all of us, want you to know how much you mean to us. And how much you are part of this family and held tight in all of our hearts, forever. And I know we are in yours, because you had the biggest heart of all and the sweetest soul. You were always an angel, but today you got back your wings ❤️ Xoxoxxxxxxxxxxxxoooxoxoxoxoxo Kaks.