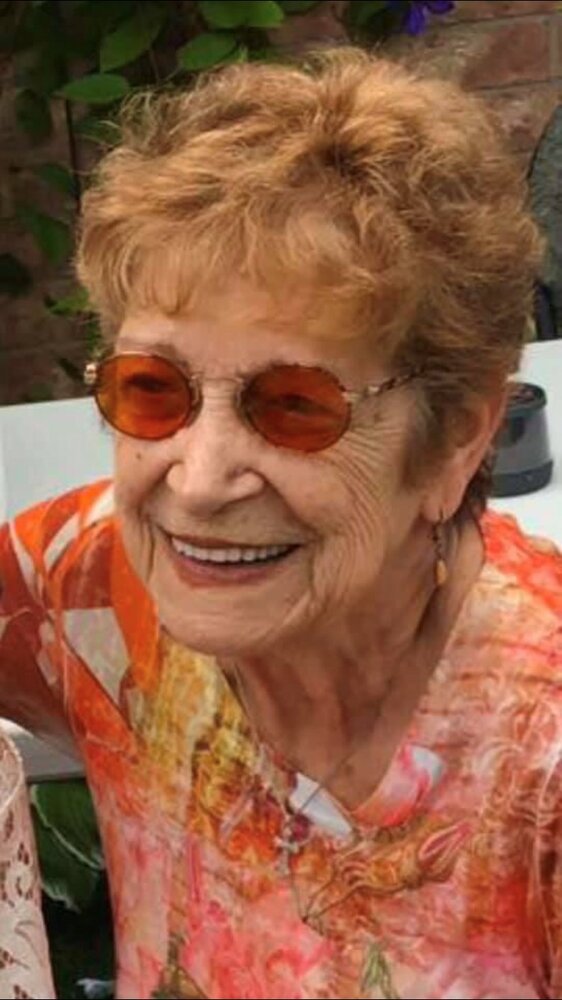 Obituary of Alda Marie Couture
It is with great sadness that we announce the passing of Alda Couture at the Douglas Memorial Hospital, surrounded by her family, on June 10, 2022 at the age of 84. Pre-deceased by her husband Roger and sisters Lucienne and Bernadette. Cherished mother of Ginette (Carole), Michel, Alain and Stephan (Kathy). Loving grandmama of Michel, Jacob, Mason, Emily and Morgan. Dear sister of Thérèse, Robert, Aline, Gilles, Roger and André. Alda will be missed by her extended family and friends. The family expresses its appreciation to Dr. Claudius Che, Dr. Kim Scher and to the nurses and staff of the Douglas Memorial Hospital and the Niagara Falls General Hospital.
Alda, the sixth of nine children, was born in Montreal on March 17, 1938. She had always described her youth as joyful, filled with the hustle and bustle that comes with such a large family. She was an avid and interesting storyteller of that era because of her astute observations to detail in all of her life experiences.
She met her future husband, Roger, and married him at age 20; they were married 54 years before his death in 2012. Together, they raised four children, starting in Quebec and ending in Fort Erie. Leaving Montreal and all her family was not easy, but the transition was softened by her sister, Aline, who was already established in Fort Erie with her own family, "the Belleville's". The big-city girl found that small-town life was more her beat. She never regretted the move.
Alda was mostly a stay-at-home-mom, running the show from morning to night, the house always full of dinner time aromas, always at the ready to make sure her kids were alright if they came home very late, and always at the ready to sit and have deep conversations about life with them. She had a lot to say, but really, she was a listener and people could count on her undivided attention when they dropped in for a coffee, or ran into her in the community.
Alda was a vibrant, generous, intelligent woman who fearlessly faced life's challenges with the most strength and courage imaginable. She was unwaveringly solid, a fierce protector of her children and a very wise and fair person. You could not pull the wool over her eyes…she saw the truth. One could not help but respect her advice which was always given sensitively and tactfully.
Her connections to her family and community were strong. Daily or weekly telephone contacts with her siblings, friends or children were so important to her. Family gatherings were as abundant and festive as could be. Her love for her grandchildren was indescribable….they know it.
Until her husband's death, weekly mass at St. Michael's was an important part of her life; since his death, she would watch mass on television. Together they teamed up to deliver lunches for the Meals on Wheels program for many years. She was an active member at the YMCA and CWL, a member of the Red Hats' Society and the "French Connection" group of ladies. She enjoyed many of the activities next door to her building at the Lion's Club. She and a small group of women played cards at each other's homes once a week….she always excitedly told her children "how much" she won (we're talking coins here!). All of these people and activities helped her stay active and independent despite her various health issues, especially being legally blind. She was blessed to be surrounded by such good people.
Alda's spiritual strength was a constant in her life, however, in the last two weeks before her death, the family was able to bear witness to that strength in such a way never before seen in her. Alda was fully aware, conscious and alert up until 8 hours before her passing. She was cognizant of her diagnosis, and prognosis of impending, if not imminent, poor quality of life which was only going to worsen. Alda's "quality of life" was crucially important to her. We all know that.
Her last messages, during the week, to us and to you were "keep the love in your heart always"…..
So with all the love in her heart, with peace of mind and serenity, the bravest woman we know said adieu to her life, to us and to you.
So with all the love in our hearts, a Celebration of Life will take place at St. Michael's Church, Fort Erie on Friday, June 17, 2022 at 11a.m.; prior to the service, the family will receive friends and family from 10:15-11:00. Private interment at Greenwood Cemetery. In memory of Alda, donations to the Canadian National Institute for the Blind (CNIB) would be appreciated.