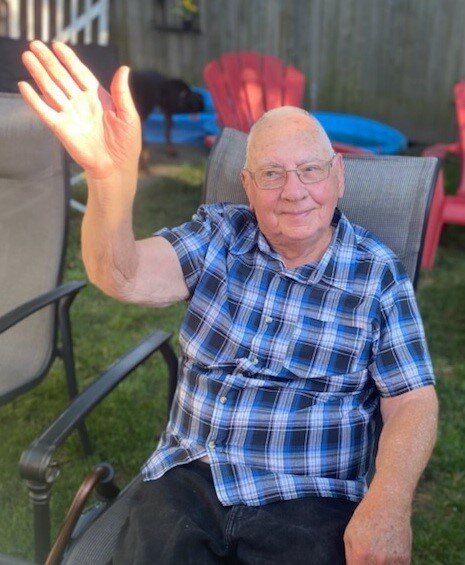 Obituary of Frank Elly
Elly, Francis John (1933-2022)
Surrounded by so much love, his gentle heart stopped beating, his beautiful soul drifted off to the stars. It is with profound sadness that we, the family of Frank Elly announce his unexpected and quiet passing on May 17th, 2022.
Frank made his entrance into the world on January 7th, 1933, in Welland, Ontario to proud and loving parents Anna and Francis Elly.
Frank is survived by his loving and devoted wife of 40 years, Karen (Millar) Elly, his dearly loved children Patricia (Craig) Heckman and Kenneth (Cheryl) Elly. His "bonus" children Becci (Craig Newell) Kostuk, Kathy (Todd Marr) Arbic and Bradley (Jen Teal) Arbic.
"Grampie" was deeply loved and will be sadly missed by his grandchildren – Shawn (Allison) Heckman, Dan (Bonnie) Heckman, Brian Heckman, Whitney Anne (Cory Willett) Arbic, Adryanna (Ken Reichelt) Kostuk, Mason, Addison and Delilah Arbic, Paige and Reagan Elly, Alicia Elly, Victoria (Brandon) Smith. Great grandchildren – Wesley and Emmett Heckman, Taelynn and Trinity Heckman, Lucas and Frankie Elly and Arabella Smith. As well as his special niece June (John) Recchia and her children, Alyssa and Jason and many extended family members in Hungary and Canada.
Frank was predeceased by his beloved parents Anna and Francis, the mother of his children – Yvonne Elly (1984), son Robert Elly (1995) and his infant brother (1935)
Born and raised in Welland, as a teenager he helped out in his parent's pool hall and bakery in Welland. As an adult, he began a glamorous career as a shoe salesman at Agnews in the wilds of Northern Ontario. There he married Yvonne and Patty was born. He later transferred and settled in Fort Erie, where Bob and Ken were welcomed to the family. Frank changed career paths and became a batch maker at Pierce Stevens/Sherwin Williams. He remained there for 30 + years until he retired to his new occupation as a Cabana boy for his grandchildren.
Frank was a proud member of the Fort Erie Fire Department as volunteer firefighter and then a retired/exempt member for many years. He was the unofficial family photographer, he enjoyed history, Coronation Street, channel 33, gardening, road-trips, vacations, being with family and friends, Sunday BBQ's and eating endless dozens of Ontario corn with Becci. But his greatest joy in life were his grandchildren.
Dad had the biggest, gentlest heart and the best sense of humour. His smile and antics could light up a room.
His departure has left a huge void in our family and our hearts. Rest well dad. When the summer sun shines down upon us, we will know it's you smiling down from heaven.
We wish to thank Dr. Kim Scher from the bottom of our hearts for his excellent care. Years of care, concern, home visits, and making dad always at ease. To Dr. Michael Csanadi for many years of care and to the staff at Douglas Memorial hospital complex/palliative care unit for making Franks final hours peaceful and comfortable. We are forever in your debt

Donations can be made to Fort Erie LaFrance Association, Douglas Memorial Hospital Palliative Care program or to the charity of your choice. Benner Funeral Services, Fort Erie entrusted in arrangements.
Visitation will be held at the funeral home, 1105 Benner Ave, Fort Erie, on Tuesday May 24th from 3pm-5pm and from 7pm-9pm. Funeral mass will be held at St. Michaels Roman Catholic Church on Wednesday May 25th at 1pm. For those unable to attend the funeral mass, there will be a livestream available on the St. Michael's Church Facebook page. https://www.facebook.com/StMichaelRomanCatholicFortErie/