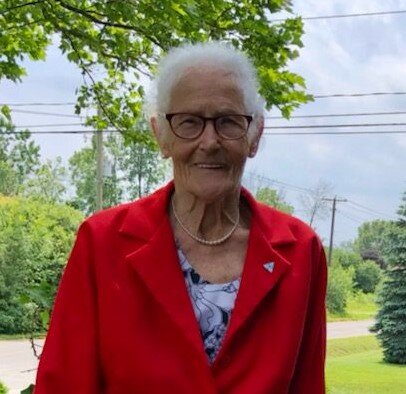 Obituary of Iole Toppazzini
Toppazzini, Iole
It is with sadness that we announce the passing of Iole Toppazzini.
Peacefully, quietly and on her own terms until the very end, Iole left us on Monday, November 29, 2021 after a long, well lived life. She was 92.
Predeceased by her husband Guiuseppe, Iole leaves sons Danny, Eddie (Loredana), Randy, and David (Laura). She is also survived by her 11 grandchildren: Marlo, Patrick, Kristina, Jacob, Matthew, Alex, Sophia, Julia, Ryan, Natalie and Ava, and great grandchildren Charlie and Max. She was our beloved Nona and we loved her and will miss her beyond measure.
Iole was born and raised in a community in northern Italy called San Daniele del Fruili, a small town in the mountains. She spoke so fondly of her early life and her family there and how she loved to laugh and dance until her feet were blistered in her fancy shoes, causing the type of pain that's well worth it. She would eventually leave her dear Aunt Maia and her cousins behind and immigrate to Canada with her mother, Elisabetta, and her brother, Giovanni, both of whom she cherished.
After settling in Canada and marrying Giuseppe (Bepi), Iole began working at Irvin Industries as a seamstress. She was a brilliant tradeswoman and could sew as easily as she breathed; a ripped pair of pants or socks with holes in them were no match for Iole. Not one to waste anything, we grew up recognizing the familiar texture and colour of industrial parachute fabric on anything from pants to tablecloths!
Iole loved being in her garden and was so proud of her home; she loved being outside working in the sun and feeling the warmth on her skin in the summer. Iole was not afraid of hard work, and she tried to instill those lessons in all of us. We learned early that first comes work and then comes play and never to waste anything. There was never a chair too broken to be fixed or a meal left uneaten at Iole's house; everything had value and should be treated as a precious gift. What a beautiful legacy she leaves for us all.
Arrangements have been entrusted to Benner Funeral Services and visitation will be held on Friday December 3, 2021 from 2-4 & 7-9 p.m. with a funeral mass to follow at St. Michael's Catholic Church on Saturday December 4, 2021 at 11 a.m.