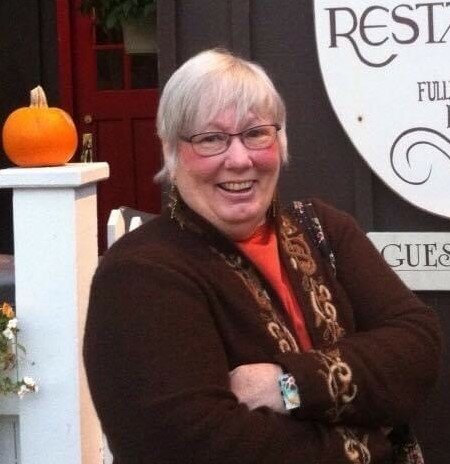 Obituary of Sue Keating
Elizabeth "SUE" Keating (née Wilkinson)
February 19th, 1945 to November 23rd, 2021
And after a long time the boy came back again.
"I am sorry, Boy," said the tree, "but I have nothing left to give you-
My apples are gone."
"My teeth are too weak for apples," said the boy.
"My branches are gone," said the tree.
"You cannot swing on them-"
"I am too old to swing on branches," said the boy.
"My trunk is gone," said the tree.
"You cannot climb"
"I am too tired to climb," said the boy.
"I am sorry," sighed the tree.
"I wish that I could give you something... but I have nothing left. I am an old stump. I am sorry..."
"I don't need very much now," said the boy, "just a quiet place to sit and rest. I am very tired."
"Well," said the tree, straightening herself up as much as she could,
an old stump is a good for sitting and resting. Come, sit down. Sit down and rest."
And the boy did.
And the tree was happy.
Sue Keating (Wilkinson) was lovingly and peacefully invited to rest beneath God's tree, surrounded by loved ones on November 23rd, 2021. Sue always imparted sayings that were at times insightful for the instant or could bring a chuckle to a moment of extreme seriousness, "bless her pointed little head". Sue's positive outlook, sincere and memorable smile, and sense of humour remained with her – her memories shared and recounted, funnies made and her love abounding.
Sue will be dearly missed by her children Katie (Tracy Reynolds) Keating and Sean (Tricia) Keating and her 3 grandchildren, Brody, Colbie and Beau Keating. Always a family woman, her legacy will live on forever through continued time together, stories told, and a lot of laughing and smiles.
Sue was a caring sister-in-law to Linda (Phillips) Wilkinson, and a loving aunt to her niece, Kelly Keating (Pete), and nephews, Gord Keating, Timothy Matthews-Sawicki (Greg), William Wilkinson and their families. Sue will be remembered by many caring extended family members and friends, namely her dearest and oldest friends Robin Vassallo, and Bobbie Lynch.
Awaiting Sue's "arrival" were her parents Phyllis (2019) and Harry (1995), her brother Rick (2021), her twin sister Jane (2019), and nephew Brett (2020).
Sue was born in Brantford, Ontario, moving to Fort Erie when she was a baby and lived the rest of her life calling Fort Erie home. Sue spent her entire career in education, with a focus on teaching primary school age children, reading and writing literacy and a focus on children with special learning needs. She began her career briefly teaching in Toronto, thereafter, getting hired in Niagara and taught with the District School Board of Niagara (Niagara South) for 42 years before her retirement, when she began focusing more on her home-based private tutoring services. Sue was a graduate of Fort Erie Secondary School and Brock University. A lifetime member of St. Paul's Anglican Church, she enjoyed singing in the choir there for many years.
Katie and Sean would like to extend thanks and gratitude to the team at Garrison Place Retirement Residence, whose leadership, expertise, compassion, and guidance was exceptional always, and especially the past few weeks. Thank you from the bottom of our hearts, you are simply amazing. In addition, our heartfelt thanks and gratitude to Dr. Scher and the Palliative Care Team, as well as Dr. Che, Dr. Broski and the Dialysis Care Teams at both St Catharines and Welland Hospitals, as well as the many visiting care partners that made our mom's life easier.
As per Sue's wishes, cremation has taken place and her life will be celebrated in the spring, on Saturday, May 28th, 2022 at 1:00pm at St Paul's Anglican Church with a reception to follow. Arrangements have been entrusted to Benner Funeral Services, Fort Erie. The family would like to thank Darren Flagg and his team for their guidance and compassion during this time.
In lieu of flowers, if desired, donations to Garrison Place Retirement Residence, The Kidney Foundation of Canada, or a charity of your choice would be appreciated by the family.