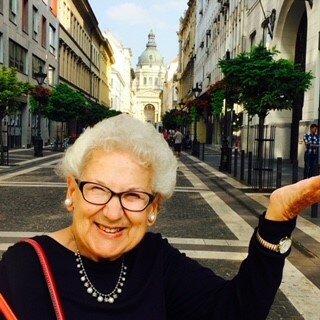 Obituary of Mary Davitt
Mary Helen Davitt
(Maiden name: Mary Helen George)
Born Fort Erie, Ontario, Canada, March 2, 1930
Died Albany, New York, August 30, 2021
Mary Helen (George) Davitt, who lived in Delmar, New York, for over 50 years, died peacefully with her family close-by on August 30, 2021. She was 91 years old.
Mary was born in 1930 in Fort Erie, Ontario, to Frank and Mary George, who had immigrated to Canada in the 1920's from the ethnic Hungarian part of what is now Romania. The family spoke Hungarian at home, a language that Mary spoke fluently for her entire life. At a significant financial sacrifice for her immigrant parents, Mary enjoyed a Catholic education for both high school and college, first at Loretto Academy in Niagara Falls, Ontario, a Catholic boarding school that opened in the late 1800's and closed in 1970, and then at D'Youville College in Buffalo, New York. Mary graduated with a degree in English and, shortly after graduation, taught high school in Ripley, New York, and in Buffalo.
Mary met her husband, Alan Davitt, in the mid-1950's when they were both taking a night class at Canisius College in Buffalo. Alan was raised in New York City and was working as an educational administrator for the Catholic Diocese of Buffalo. Within three months, they became engaged. They were later married in Fort Erie on August 6, 1955. Mary always maintained that her wedding day was the happiest day of her life. She and Alan remained married until Alan died in 2005, several months shy of their 50th wedding anniversary. Although the demands of work and child-rearing consumed much of their married life, Mary and Alan enjoyed a wide array of friends, travel, music and – perhaps above all – dancing. Throughout their lives, they were excellent dance partners. They resided in Fort Erie until 1967, when the family moved to Delmar, New York, and Alan took a position in Albany with the New York State Catholic Conference.
Mary reveled in her six children. She said that her children gave her life meaning and purpose. George, Alan, Mary, Dan and Mark were born in Buffalo, and, when Mary was 41, her son John was born in Albany. With a warm smile and a generous heart, Mary managed all the daily tasks of raising children and making a family home. At one point, she had five children under the age of eight. Mary said that each day as a mother brought her joy. Family photos and movies almost always feature a birthday cake. Although feeding, clothing and educating six children (as well as keeping them out of trouble), presented some challenges, Mary said that, with a good husband and great children, life's difficulties fade away and love triumphs.
Mary's children are fond of saying that Mary had "baby radar." She would spot a baby or young child and immediately be drawn to that child, and they to her. She had a natural way of relating to young children, always with a huge smile, a warm hug and enthusiastic encouragement. She understood children instinctively. Even after her own children had left the home, she happily became the adopted aunt of the young children of her friends. Her own children could barely keep track of all the names of children that Mary happily talked about – while waiting for her own grandchildren. Ultimately, she had 15 grandchildren, all of whom added to Mary's happiness. Later in life, when she was wheelchair-bound and limited by dementia, Mary's children would take her to playgrounds, where she would smile and laugh just watching young children at play.
Mary's deeply religious faith was a blessing to witness. She attended Catholic Mass every Sunday and, later in life, every day. She was a member of St. Thomas Parish in Delmar for over 50 years and volunteered as a lecturer, extraordinary eucharistic minister and member of the parish's Ladies of Charity and Altar-Rosary Society, serving for a time as President of each. She taught religious education and she participated in her parish's "prayer chain" – praying regularly for anyone suffering including those unknown to her. Her faith gave her strength and enabled her to accept the challenges of life with grace, understanding and equanimity. Mary was an upbeat and happy person generally, and she was especially happy when her family filled an entire pew at Sunday Mass.
Mary loved music and writing, especially poetry. She played the piano well-enough to play classical pieces, but she most enjoyed playing and singing Broadway and Christmas songs. She wrote beautiful cards and letters; she expressed herself as easily with a pen as in speaking. She wrote regularly to friends, her parents, her children and grandchildren. She also wrote poetry. Many of her poems were published in The Evangelist, Albany's Catholic newspaper. With significant help from her daughter-in-law Andrea, Mary published a book of her collected poems, A Journey of the Heart (iUniverse: 2016). In her last years at St. Peter's Nursing Home in Albany, her children would read her poems to her and to other residents of the community. Her poems helped others understand Mary's spirituality, her depth of compassion and acceptance of the frailty of others, her love of family and friends (and, of course, children) and the joy she felt in the tasks of everyday life. She was a beautiful person in every respect, especially in her selflessness.
Mary had a warm, outgoing personality. She was always smiling. Even later in life, at St Peter's Nursing Home, the caregivers constantly remarked that she had a beautiful smile. She always had a kind word and a big smile for the physicians, the nurses and nursing assistants, the cleaning staff, the administrators, the kitchen staff and the receptionists. They would smile and laugh in return. Although dementia stole her ability to converse later in life, Mary's smile and laugh would convey her warm personality and love for everyone around her.
Mary is survived by her six children: George (Wellesley, Massachusetts), Alan (Virginia Beach, Virginia), Mary (Pittsburgh, Pennsylvania), Daniel (Albany, New York), Mark (Shelburne, Vermont) and John (Westport, Connecticut); and 15 grandchildren. A wake and funeral Mass will be celebrated at St Thomas Church in Delmar on September 2, 2021. Mary asked to be buried next to her parents at Greenwood Cemetery in Fort Erie. Donations in lieu of flowers may be sent in Mary's memory to St. Michael's Church in Fort Erie.