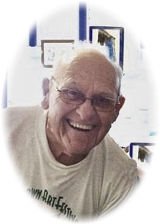 Obituary of Pat Ryan
Ryan : Patrick
Surrounded by the love of his family Pat passed away on Sunday March 21st, 2021 at the age of 85. Proud father of Kelly Ryan-McLean, Joe (Frances) and Pete (Brenda). Cherished Papa to Hunter, Kerri-Ann and Owen. Predeceased by his first wife Patricia Ann, second wife Judith Ann and his son Paul.
A hard working entrepreneurial man, Patrick will be remembered by many for the friendships made at the Barnea Tavern and by those that he worked alongside during his time in real estate at Century 21. An active community member he contributed to St. Michael's Church, the Fort Erie Kinsmen, and the Fort Erie Lions. Patrick was an avid cyclist who could be seen daily on the Friendship Trail between Fort Erie and Ridgeway. He was addicted to golf, with many friends in the senior's league. After a round of morning golf he could be found sitting with friends enjoying a coffee and muffin at McDonalds.
Benner Funeral Services 1105 Benner Ave., Fort Erie entrusted with arrangements. A Funeral Mass to celebrate Pat's life will take place at St. Michael's Roman Catholic Church on Friday March 26th at 11 am. Covid protocols in place. Masks are required, attendance limited. To reserve a spot please contact the funeral home directly, by calling 905 871 0444 or via email at info@bennerfuneralservices.ca. Services will be taped and made available for convenience viewing at www.bennerfuneralservices.com. If so desired, donations in Pat's memory to the Legion Br. 71 Poppy Fund or the NHS Foundation for Palliative Care would be appreciated.