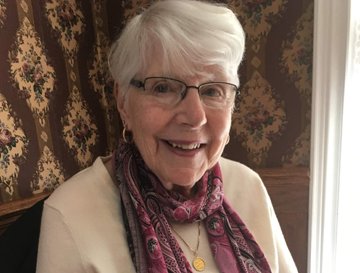 Obituary of Moira Cullen Thompson
THOMPSON: Moira Cullen
It is with heavy hearts that we share the news that Moira Cullen Thompson, (nee Haig), passed away February 10, 2021, at Douglas Memorial Hospital after a valiant struggle with pancreatic cancer. Moira will be greatly missed by her beloved husband of 64 years, Doug. Her daughters, Valerie and Kaye (Roy) Zanatta, will sorely miss their Mum who was always there for them, no matter what.
Her greatest joy in life came from being a Nana to her grandchildren, Jaci, Cory, James, David, Carly, Katharina, Alaine and Hayley. All adults now, they felt her unabashed love (and Scottish sense of humour) their whole lives. And although she was already quite ill, Nana was still thrilled to be a great grandmother to the newest generation of Ross, Winifred, and Quinn.
Moira, Doug and the girls emigrated to Niagara Falls, Canada in 1968 to find a new life with greater opportunities. She had many fond memories and funny stories, about family and friends in Scotland. It was with the great determination that she got her driver's licence and embarked on a number of different careers. Moira was known for many years as the "Ticket Lady", delivering lottery tickets in rain, wind and blizzards to the Fort Erie area, where she had a great affinity for the town and its people.
Over the years, Moira made many good friends amongst her neighbours on Bracken Street, and later at 5100 Dorchester Road, in her workplaces, in her quilting group at the Christian Reformed Church, in sorority, and volunteering, as well as at the Drummond Hill Church where she worshipped.
With many of her friends, she shared her crafting, knitting fabulous sweaters, crocheting and quilting exquisite throws and blankets. She loved telling stories, but she also loved listening. She was interested in everyone she met. People felt it, and they would tell her their stories. Her home was always open. She loved hosting her daughters' friends who she treated like extended family. She had the biggest heart and would have given the shirt off her back to help someone in need.
Moira will be sadly missed by her remaining relatives; her nephews Iain and Rickie (Australia), Alan (New Zealand), her sister-in law, Chrissie Haig and by her adopted Zanatta family as well as all who knew her well.
Arrangements have been entrusted with Benner Funeral Services, 1105 Benner Road, Fort Erie, L2A4N8. Online condolences can be made on the Benner Funeral Services website at www.bennerfuneralservices.ca
In lieu of flowers donations can be made to Drummond Hill Presbyterian Church in Niagara Falls