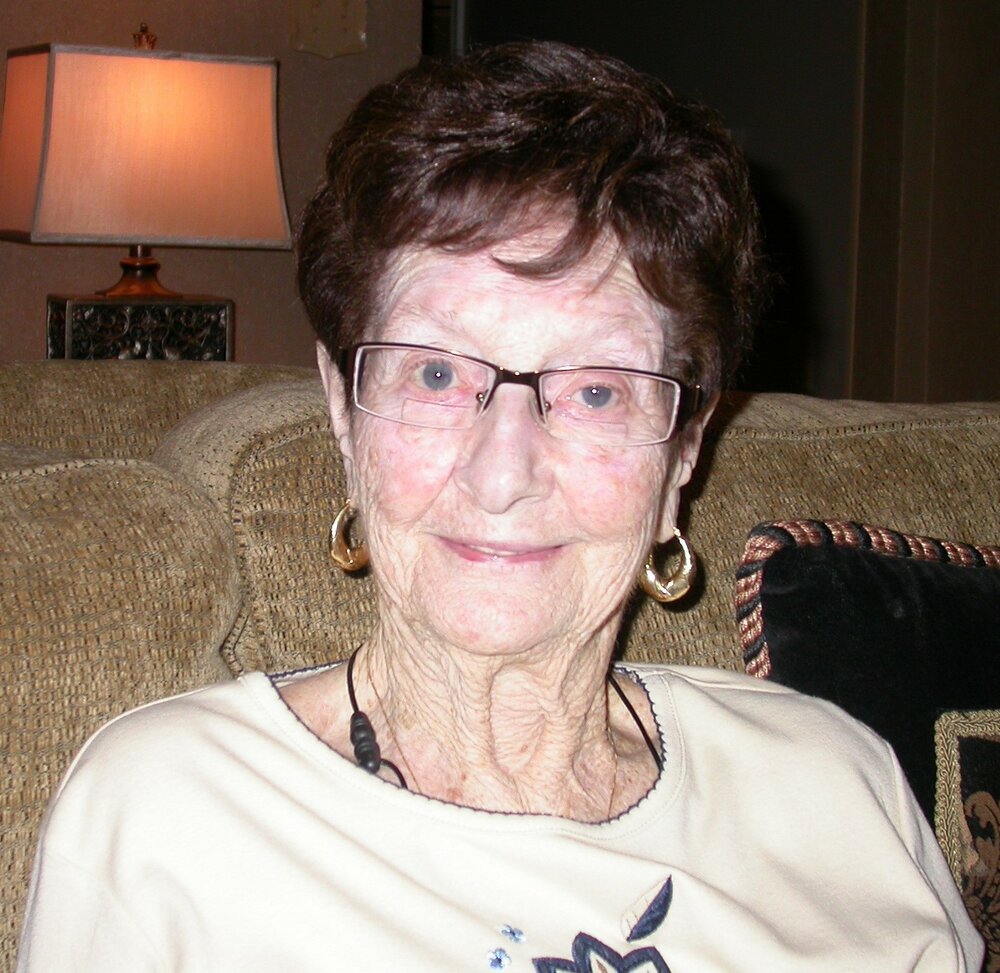 Obituary of Hazel Marie WAINES
HAZEL MARIE WAINES
1921-2021
Mom passed away peacefully surrounded by her family on Thursday, October 7, 2021 at Douglas Memorial Hospital in her 100th year. She was predeceased by her forever loving husband, Frank Walter Waines. She has been waiting 51 years to join Dad and we are consoled that they are now reunited forever.
Loving mother of Sharon Prow (the late Bill Prow) and Douglas (Marie) Waines. Proud Grandma of Barbara Waines, Stephen Waines, Sheila (Essam) Alzimaiti and Great Grandma of Hatem (Yara) Alzimaiti and Thoren Derouin. Sadly missed by her sister Velma Werkmeister and many nieces, nephews and dear friends.
A very special thank you and appreciation to Dr Kim Scher and the entire Douglas Memorial Hospital nursing and supportive staff. Their professionalism, kindness and compassionate care for Mom was exemplary and was extended to all of our family members.
We were so fortunate to have "Grandma Hazel" with us for so long. She was happiest when we would group around her and tell jokes after a meal. Although she was relatively quick to get a punch line, some would require a bit of explanation making the moment even funnier. She loved shared laughter. Consistent with Dad's closing words to her, she was able to live "independently" in her own home right up to a few weeks ago. Her strong will and determination redefined perseverance.
Interment will take place at 11:00 o'clock on SATURDAY, October 16th at Greenwood Cemetery, 1900 Thompson Rd, Fort Erie, ON. This is open to the public. Anyone who wishes to attend may.
A memorial service, Celebration of Life and reception will begin at 12:30 pm on SUNDAY, October 17th at the Fort Erie Legion, 130 Garrison Rd, Fort Erie, ON. This is open to the public. Anyone who wishes to attend may. **Proof of Vaccination and masks will be required to attend this function**
Circumstances beyond our control precluded bringing all of the above on the same day.
If desired, donations in memory of Hazel can be made to:
Dystonia Medical Research Foundation (DMRF) Canada,
209-550 St Clair Ave West, Toronto, ON M6C 1A5
1-800-361-8061
or
Douglas Memorial Hospital Palliative Care,
c/o Niagara Health Foundation,
1200 Fourth Ave,
St. Catharines, ON L2S 0A9
905-323-3863