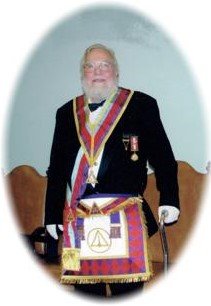 Obituary of Thomas Oliver Jeacock
Thomas Oliver Jeacock
Passed away May 11, 2021 at the age of 84. Born in Buffalo, NY July 12, 1936, he was raised in Ridgeway, ON. Predeceased by his father Mayberry and mother Olive Crysler Jeacock. Thomas is survived by his loving wife of 61 years Gail Jeacock, his daughters Penny Gaudet and Pam Jeacock, Grandchildren Robert, Gloria (Tristen Beaulieu) and Matthew Gaudet, and Great Grandchild Meleyah Beaulieu.
Tom, AKA Santa, was an avid fisherman, US Air Force Veteran and a Knight Templar. He was a member of Myrtle Lodge No. 337. He was a Grand Chapter Officer, a member of Wilson Chapter as well as a member of Plantagenent Preceptory and other concordant bodies. Tom was instrumental in the development of the Crystal Beach Waterfront Park. He was a member of several local theatre groups, both on stage and with lighting and design. In recent years he liked doing puzzles and became a voracious reader, keeping the local library busy with his requests.
As per Tom's wishes, his body has been donated to the University of Buffalo for study. Cremation to follow at a later date. Services will be held once Covid restrictions allow.
The family would like to thank Dr. Scher and the staff at Gilmore Lodge for their care and support over the past few years.
If desired, donations can be made to St. Paul's Anglican Church in Fort Erie, Hearing for Every Living Person (HELP) or Child Identification Project (CHIP).
Arrangements entrusted to Benner Funeral Services, Fort Erie.