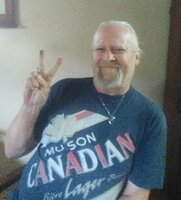 Norman Wallace Sills
I did it my way
Norman 'Norm' Sills left us August 18, 2021 for the great fishing and hunting grounds in the sky. His buddies Hughie, Larry D., Tex, Robin P and Larry H., were all there waiting for him. Predeceased by his mother Florence and dad Norman Sr., sister Judy, uncle Bert and uncle Jack, and by his love Barsie. Norm will be missed by son Nicholas, sisters Wendy (Jack) Pickles and their children Stephen and Jennifer, Heather (Paul) Kelly, Norma (Davis), and by many cousins nieces and nephews. Lovingly referred to as his Ladies, Norm will be deeply missed by Lorna, Helen, Brenda, Katie, Aline, Christine, Diane, Deb and Beth. His buddies Bobby, Cliff, PJ, Brian, Ron and Doug will all miss him terribly, as will so many other good friends.
Norm was an avid fisherman and hunter. He was also a master carpenter, painter, card and pool player. Our Norm sure loved a good party. Anyone that knew him, loved him and he loved us just as much.
Thanks to Dr. Scher and the Nurses at Douglas Memorial Hospital for helping him in his final days.
Norm has been cremated and he's off to Parry Sound to be with his parents. A Celebration of Life will take place later this year.
Online condolences and memories may be shared at www.bennerfuneralservices.ca