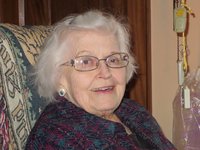 Barbara Jean van Heeren
van Heeren, Barbara Jean.
Barbara Jean van Heeren known to many as Margaret passed away peacefully at the Greater Niagara General Hospital with her family at her side. A strong and positive woman, even when she was not feeling the best. Born June 16, 1927 in Epsom, County Surrey in England, she is reunited with her late husband Hendrik "Henk" who was the love of her life. They came to Canada in 1953 with their daughter Nella (Karl) and despite the difficulty of coming to a new country, Henk and Margaret worked hard to provide a wonderful life to their family. Also survived by her son Nick (Marilyn). She was a proud grandmother to Mary (Patrick), Kristen and Edward.
Friends were always met with an encouraging word and her warmth extended to providing blankets for those in need of comfort which she would knit, even as her eyesight started to fade. She loved animals, especially her rescue cat Mindy, and would happily sit and watch the birds, chipmunks and rabbits.
Faith played an important role in her life, she was a member of St. Michael's Roman Catholic Church and she will be laid to rest during a private ceremony at St. Michael's Cemetery.
Benner Funeral Services entrusted with arrangements.